MYM Fans - Presentation of the French social network for models
In an age where digital technology is an important part of people's daily lives, the Internet is seeing the emergence of various social networks and platforms designed to entertain the general public. While some people enjoy playing online games, others like to follow the daily lives of their favourite stars. Social media such as Instagram and Facebook allow celebrities to share various content (videos, images, etc.) with their fans. These digital channels not only allow them to build an engaged community and exchange with their fans, but also to make money. In this wave of diverse social networks, one platform stands out from the rest because of its unique approach and special features. It is Me You More (formerly Meet Your Model). But how exactly does this social network work? And what are its particularities? Focus on MYM fans.
What is Me You More and how does it work?


MYM fans is a new social network that has emerged in 2019. The platform differs from those already swarming the Net in that it is specifically aimed at creators such as influencers, artists, celebrities, etc. as well as their fans. Far from being a simple network for exchanging and sharing content, Me You More (formerly Meet Your Model) offers the advantage to creators of receiving remuneration according to the media they publish. Fans, on the other hand, have the possibility of accessing unpublished content that their idols do not share on other social networks.
By subscribing to the account of a MYM personality, the fan can send the latter private media requests with personalised content. The model is then free to set the price of the content it will send or to decline the request of its subscriber. But it can also offer push media, through which it receives a fee for each unlocking made by its fans.
Please note that without a subscription, the fan cannot access the full content of their idols' feed. Most of them can be blurred and are therefore only accessible after the fan has taken out a subscription. The cost of the latter is highly variable, as each model is free to set its own prices. Fans can also choose between a monthly or annual subscription. On the other hand, it is possible for a fan to subscribe to several different models.
The platform is successful in France. From its launch in November 2019 until the beginning of April 2020, it has registered more than 15,000 profiles of models and personalities in France.
A way for creators to make money
In concrete terms, MYM fans allows models to make money. As mentioned above, fans have to pay a subscription fee if they want to access the photos or videos posted by their models. And the models themselves set the rates. The more fans a celebrity has, the more money they are likely to earn.
The social network has a private character which allows models to be visible only to their subscribers. However, the platform is open to all.
Me You More (formerly Meet Your Model) is a social network that is perfect for those who like to be exposed and those who like to share their daily lives in photos and videos. On this platform, fans will have the pleasure and joy of getting, for a subscription fee, exclusive information that they cannot find on other social networks.
Note that a subscription is only valid for one model. If you wish to follow several people at the same time, you will have to subscribe to different subscriptions, the prices of which will have been fixed by your idols. However, you are free to cancel your subscriptions at any time, without incurring any penalties or additional costs.
To help models promote their profiles on MYM fans, it uses revenue and sales optimisation algorithms. This allows celebrities to expand their profile on the platform and attract even more subscribers. It is important to note that on MYM Fans, the larger and more engaged your community is, the more income you are likely to earn.
It is therefore important for a creator to manage his MYM fans account well. In addition to the number of subscribers, offering them "extras" is also a good way to optimize a remuneration. Note that on average, a French model with several dozen fans can earn at least €500 per month.
How to become a designer on MYM fans?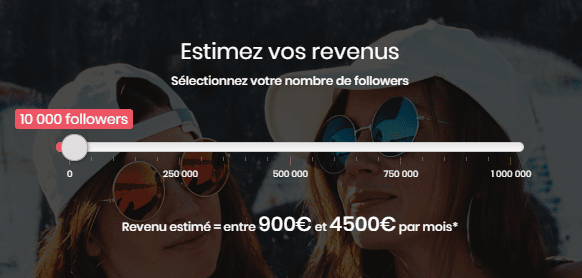 Whether you are an influencer, an artist, a model, etc. (male or female), it is entirely possible for you to create a creator account on MYM fans. To do so, go to the MYM Creators platform. As for the fans, the registration on the social network is free. But unlike your subscribers, you can earn money by publishing content.
According to a rather simplistic estimate, if you accumulate almost 10,000 committed subscribersYou can receive a fairly comfortable remuneration, ranging from between €900 and €4,500 per month. But for this, you must already have a certified profile on MYM Fans.
In order to obtain a certification, you can go to the dedicated page (certify my account). It is also imperative that you meet the few conditions below.
In particular, you must :
Already have one or a few subscribers
Publish at least 5 media on your feed
Fill in your official and up-to-date contact details (surname, first name, address, etc.)
Confirm your phone number
Have a bank account
Please enclose official identification (ID card or passport) and a security selfie.
Once you have fulfilled all these requirements, your account will automatically receive the certification icon. And your profile will be authentic on the platform.
Types of content that can be available on MYM fans
As on any social network, the model must present a profile photo on his or her MYM account. This identifies the account and ensures its performance. It is also possible to add a cover photo to the profile. This photo allows you to personalise your page as much as possible. It can also guarantee a better conversion of subscriptions.
Push media
This is content (videos or photos) that models send in bulk messages to MYM fans members who are interested in their profiles. The creators can also send push media to their current and former subscribers. They set their prices on these push media and those who wish to unlock them will have to pay the posted prices.
Private media
Fans can ask the models to send them private content for a price that is always set by the creators. The creators are free to accept or refuse the requests of their subscribers.
Media on the feeds
Each model has a feed on which they can post public and blurred content. As the name implies, public media is visible to all users, whether they are members of MYM fans or not and whether they have subscribed to the profile or not.
It is a good way for a model to give the public a taste of what it is actually offering on its profile. In addition, it is a solution that optimises subscription conversions. Blurred content, on the other hand, will only be visible to members who are subscribed to the creator's profile.
Note that to avoid indecent exposure, the platform reserves the right to check the content of each media before making it available to MYM fans members. Thus, nude and topless photos are strictly forbidden on the social network.
A network where you can follow your idols exclusively
Like other social networks, you can follow your favourite personalities on MYM fans by subscribing to their profiles. To do this, simply search for them by clicking on the dedicated icon (in the shape of a magnifying glass). Then click on the "Subscribe" button visible on the profile page. However, all media and information on the account's feed is blurred until you pay a subscription.
You should also be aware that all media published on MYM fans are subject to intellectual property rights. For this reason, it is strictly forbidden to repost them on other platforms or to use them outside the private channel of the social network. If a fan violates this rule, he will be immediately excluded from the platform and will also be subject to legal proceedings.
It should be noted that MYM Fans is uncompromising about respecting the privacy of its members. For this reason, the platform scrupulously applies the sanctions related to the violation of privacy in accordance with articles 226-1 and 226-22 of the Penal Code. The social network also invites its members to report any illicit use of MYM fans media outside the platform.
On MYM Fans, you have the opportunity to chat with a celebrity and request private media. It is important to know that the model has 72 hours to send you your personalized media. You can always follow up with the model by sending them a heart in the chat box if they are slow to respond to your request.
If, after having made the payment for the private media, it does not reach you after the 72 hours announced, you can inform the customer service and ask for a refund.
On the other hand, if you have sent a request for private content to a model and the media received does not correspond to your request, you can send a new request to the model explaining that the content sent does not correspond to your request. Note that this second media that will be sent back to you must normally be free. But for your request to be legitimate, it must be justified. This is the case, for example, if you have requested a video, but instead you receive a photo. Your request can also be revised if the model sends you a photo in which he or she does not even appear or if he or she sends you another person's media.
And if, despite your reminders, the content received still does not correspond to your request, you can contact customer service.
On MYM fans, model profiles can be accompanied by two different badges. As mentioned above, the certification badge means that the account is genuine. But it is also possible that this badge is accompanied by a small star. This is the SuperStar badge. If you find this on a creator's profile, it means that the account is both genuine and active.
Typically, creators with SuperStar status post content on their accounts on a weekly basis. These profiles also respond to private media requests from their fans within 48 hours.
How do I achieve SuperStar status?
If you are a creator (model, personality, artist, etc.) and you want to acquire SuperStar statusYou must meet certain conditions. First, your account must be certified. Secondly, you must be very active on the platform and connect to it regularly. Thirdly, you must manage to get at least 50 active subscribers during a month. Fourthly, you need to post at least 2 photos per week on your feed. And finally, you must be able to respond to your fans' private media within 48 hours.
Please note that the SuperStar status is only valid for 1 month. It can be granted or withdrawn depending on the activity of your account on the platform. This attribution or withdrawal is generally done every 1st of each month and the decision is made after analysis of your statistics of the previous month.
Why get SuperStar status?
This status is not only an icon that allows fans to be sure of the seriousness of a profile. It is also beneficial to creators because of the various advantages it offers. With a SuperStar status, the creator's special status is highlighted. This allows the creator to get more subscription conversions. Profiles with this little star icon also have the chance to appear more easily in the platform's search engines. This is due to the presence of a dedicated SuperStar filter.
If you are a creator and have SuperStar status, your nickname will be associated with that badge anywhere on the platform. And unlike a classic status, your commissions on push and private media as well as on your number of subscriptions are 1 % higher. Apart from that, you will be able to receive your earnings directly via PayPal.
An update on bank fees and charges
MYM Fans wants to be as transparent as possible in the communication of the commissions attributed to each creator on the platform. These are calculated according to the commission rates, bank charges and VAT.
For online payments, the platform works with Checkout and Epoch, both of which are reliable and efficient payment terminal providers. What's more, they allow creators to enjoy higher commissions. Note that for each transaction made, a bank fee of 7 % (including taxes) is charged.
The platform applies a payout percentage (after deducting bank charges) to the pre-tax value of the order. Therefore, creators can collect 80 % of the amount due for private media, 75 % for subscriptions and 90 % for tips.
Note that VAT applies to all media that fans purchase on the platform.
Creators who wish to make money by publishing content on MYM fans have nothing to fear in terms of payment. On the other hand, it is important to fulfil some prerequisites such as having a certified account, to inform the details of the payment method and to have at least 50 € of "validated" earnings.
To collect your payment, you simply select the payment period of your choice. Payment can be made once or twice a month or once or twice a week. You can change these payment periods by going to the "Payment details" section.
Payment status
A creator's kitty is credited with each purchase validated by a fan on the profile. Note that the creator's balance has two types of earnings. There are validated earnings that can be withdrawn, as they have passed the validation period, and there are the so-called "pending" earnings. The latter cannot be withdrawn during a defined period. These are usually recent winnings.
For monthly subscriptions, it normally takes 15 days for the winnings to become validated. For annual subscriptions, the validation period for earnings is 60 days.
In the case of media earnings, this validation period is 7 days, and the same applies to tip earnings. However, the creator's account is credited immediately upon delivery of private media.
What about security on MYM fans?
If you are interested in becoming a content creator on MYM fans, you will be pleased to know that the platform follows a strict security protocol to protect all your media. This means that your fans will not be able to save or share your content on other media under penalty of punishment. MYM Fans also ensures the complete confidentiality of creators' personal data. It will not be used or disclosed to third parties or fans.
In order to encourage users of the social network to respect the general terms of use, the right click from computers is disabled as soon as users enter the platform. The same applies to the "drag and drop" option for saving content.
MYM Fans has also disabled the video recording option on its streaming players. Private media sent by creators to their fans have trackers. Other security technologies are deployed by MYM fans to protect its users' media as much as possible. But even if these technologies offer a certain performance, the platform is not yet able to offer a zero risk to its users. For this reason, it also informs fans about the various sanctions they may be subject to in case of transgression of the platform's rules of use.
Those who disregard the terms of use of the platform may, for example, be subject to a formal notice issued by a bailiff. MYM fans can also take legal action against them.
Note that the fact of illicitly using or appropriating content obtained from the social network is considered an infringement of the consideration of the creator who owns the media. These acts are punishable by a fine of €45,000 and one year in prison.


Me You More (formerly Meet Your Model) offers a unique affiliate program that allows you to generate revenue by simply introducing the platform to other creators (celebrities, models, artists, etc.). The principle is simple, because you just have to introduce the social network to other creators by inviting them to visit your affiliate link. You can also get this link from the Ambassadors site.
And as soon as users register on the platform through your link, they become your affiliates. When they earn money from their media and subscriptions, you get a percentage.
For every ambassador who signs up on MYM fans through your affiliate link, you get 50 % of their earnings. And for every revenue generated by creators who sign up on the social network using your link, you get 10 %, whether it's on subscriptions, push media or private media.
Becoming an ambassador on the platform gives you access to a dashboard from which you can monitor your income in real time. You will also have interesting tools at your disposal (teaser message generator, MYM media kit, etc.). And a back-office will allow you to better manage your affiliates.